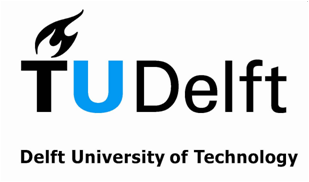 DELFT UNIVERSITY OF TECHNOLOGY
Founded in 1842, Delft University of Technology is the oldest, largest, and most comprehensive technical university in the Netherlands. With over 13000 students and 2100 scientists (including 200 professors), it is an establishment of both national importance and significant international standing. The Delft University of Technology has 14 different bachelor studies and more than 30 master programs. Renowned for its high standard of education and research, TU Delft collaborates with other educational establishments and research institutes, both within and outside of the Netherlands. It also enjoys partnerships with governments, trade organisations, numerous consultancies, industry and small and medium sized enterprises. Today, social issues are becoming progressively complex - they require a multidisciplinary approach. TU Delft uses its expert knowledge to solve these problems. In fact, society is its most important contractor. The TU Delft aims at being its "interactive partner", committed to answering its multifaceted demands and initiating changes to benefit people in the future.
The design of multi-actor decision support systems is one of the key foci of the System Engineering Section's research programme combining the expertise within the five areas of expertise within the group: modelling and simulation, serious gaming, collaboration support, (inter)organizational learning and autonomous systems. Creating shared understanding between multiple actors is crucial to high quality decisions. Multi-actor decision support systems are designed for the analysis of business processes, forecasting of the effects of business interventions, rehearsing or training specific skills (e.g. in a game setting). These innovative systems mandate active and collaborative knowledge creation and maintenance within the spectrum between formal and informal (inter)organizational learning.
Key people:
Stephan Lukosch, Associate Professor
Gwendolyn Kolfschoten, Assistant Professor
Stefan Knoll, Researcher
Jordan Janeiro, PhD Candidate
Frances Brazier,  Professor