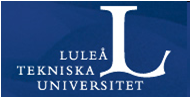 LULEÅ UNIVERSITY OF TECHNOLOGY - LULEÅ TEKNISKA UNIVERSITET
Luleå University of Technology is the northernmost university of technology in Scandinavia with research and education on an international arena. Our strength lies in our cooperation with companies and universities both nationally and internationally. Our contact with companies and society help us develop research and education that satisfy the demands that the world around makes on us and our students. Luleå University of Technology conducts research in the Faculty of engineering and the Faculty of arts and social sciences. Research at the University has an annual turnover of approx. MEURO 69. The research is characterized by multidisciplinary cooperation between the University's research departments and close interaction with trade and industry and society. Both major international and national companies and small enterprises in the
Region are involved in the University's research and development projects. The companies also cooperate in the University's research centres. The Division of Computer Aided Design has its research platform in product development processes, product data management, product lifecycle management, modelling and simulation, engineering design, and distributed collaborative engineering. One of the division's main focus
areas is, in close collaboration with leading national and international research centres, to conduct research and education in Product Development and Engineering Design, which encompasses the process from user needs to concept development, detail design and product lifecycle management.
Key People
Professor Lennart Karlsson, Head of Division of Computer Aided Design.
·         Associate Professor Peter Jeppsson.
·         Associate Professor Mats Näsström.
·         Assistant Professor Magnus Löfstrand.